Stainless/Carbon/Alloy Steel Elbow Seamless Bw
Bangdong supply
Stainless Steel Butt Weld Pipe Fittings available in below standard and materials :
Specification – A403 & ASME SA182 / SA403
Grade – 304, 304L, 304H, 309S, 309H, 310S, 310H, 316, 316TI, 316H, 316L, 316LN, 317, 317L, 321, 321H, 347, 347H, 904L
Type – Seamless / Welded / Fabricated
Dimensions – ANSI/ Asme B16.9 , B16.28, MSS-SP-43
Size – Seamless ½" to 24", Welded ½" to 24", Two Joint / Two Halve Fittings 6" to 48"
Thickness –Sch 5s, Sch 10s, Sch 40s, Sch 80s, Sch 160s, Sch XXS

Stainless Steel Pipe Fittings – Seamless / Welded Pipe Fittings
Available Size – Sizes 1/2″ – 48″
Stainless Steel Reducers Stainless Steel Concentric Reducers Stainless Steel Tees
Stainless Steel Pipe Nipples Stainless Steel Stub end Stainless butt weld Tees
Stainless Steel Elbows Stainless Steel 3D Elbow Stainless Steel Stub Ends
Stainless Steel End Caps Stainless Steel 5D Elbow Stainless Steel 180° SR Return Bends
Stainless Steel Long Radius Elbow Stainless Steel Eccentric Reducers Stainless Steel Reducing Crosses
Stainless Steel Elbows Stainless Steel Crosses Stainless Steel Couplings
Stainless Steel Short Radius Elbow Stainless Steel Pipe Bends Stainless Steel 45° Elbows
Stainless Steel Reducing Elbow Stainless Steel Piggable Bends Stainless Steel 180° LR Return Bends
LONG RADIUS ELBOWS, SHORT RADIUS ELBOW, CARBON STEEL ELBOWS, S
TAINLESS STEEL ELBOW MANUFACTURER
A234 WPB , A420 WPL6, A234 WP11, A234 WP5, A403 WP304L, A403 WP316L | ASME/ANSI B16.9, ANSI B16.28, MSS-SP-4
LONG/SHORT RADIUS ELBOWS – 90° ELBOW, 45° ELBOW, 180° ELBOW, 1D, 2D, 3D, 4D, 5D, 10D, CUSTOM RADIUS ELBOWS
Custom Radius Elbow Supplier in China, 316 Elbow, A234 WPB Elbows Manufacturer, A420 WPL6 Elbow, A234 WP11 Elbow, A234 WP5 Elbow, A403 WP304 Elbow, Carbon Steel Elbows, Stainless Steel Elbows, Alloy Steel Elbows, Long Radius Elbows, Short Radius Elbows. 3D Elbows, 5D Elbows, A403 WP304L Elbow, A403-WP316 Elbow, A403-WP316L Elbow, Seamless Elbows, Large Diameter Fabricated Elbows, 20″ NB Elbow,36″ NB Elbow Supplier, Buttweld Elbows Manufacturer, , 100% X-Ray Welded Elbows.
Bangdong is ISO 9001:2015 Certified Company, and we are considered as one of the known name manufacturer and supplier of short radius and long radius elbows. We offer our materials with complete certifications and as per international standards. Our production range includes stainless steel elbows, carbon steel elbows, alloy steel elbows, and elbows in special alloys such as Monel, Inconel, Hastealoy. We can manufacture elbows upto 48″ with wall thickness ranging from 1.5 mm thickness up to 40mm for varied sizes.
An elbow is a Pipe Fitting which is used as a connection point between two lengths of pipes to produce a change in the direction of flow in the pipe, usually at an angle of 90°, 45° or 180°. Elbows are also commonly referred as bends, and are available in a range of materials such as stainless steel, carbon steel, alloy steel, nickel alloys, duplex, and cupro nickel.Also known as 90° bends, 90° elbows are manufactured as SR (Short Radius) elbows and LR (Long Radius) elbows. 45° elbows are typically made as LR (Long Radius) elbows.
The long radius elbows have a center to end distance that is 1.5 times the NPS in inches (R=1.5D), while the short radius is equal to the NPS in inches (R=1.0D).=Short radius elbows are generally used in tight areas, and long radius elbows are used when space is available and flow is more critical. We can also manufacture and supply carbon steel elbows and stainless steel elbows in non-standard size angles such as 60°, 100°, 120° or 150°.
The ends may be machined for butt welding, threaded (usually female), or socketed, etc. When the two ends differ in size, the fitting is called a Reducing Elbow or reducer elbow.
We the well-known prestigious manufacturer and supplier of high quality long radius elbows, short radius elbows, stainless steel elbows, duplex elbows, and carbon steel elbows as well as fabricated stainless steel elbows. We supply our products to customers in various industries including pharmaceutical, chemical, power, petrochemical, engineering and various other industries.
Buttwelded Pipe Elbow Production Range
| | |
| --- | --- |
| Outside Diameter: | Seamless Elbow ( 1/2″~24″), ERW / Welded / Fabricated Elbow (1/2″~48″) |
| Wall Thickness: | 3mm – 40mm / SCH5, SCH10, SCH20, SCH30, SCH40, STD, SCH80, XS, SCH60, SCH80, SCH120, SCH140, SCH160, XXS |
| Bending Radius: | R=1D – 10D, 15D, 20D |
| Product`s Angle: | 5° – 180° Elbows, 90° and 45° Long Radius Elbows, Long Radius Returns, Short Radius Elbows and Returns |
| Value Added Services: | Hot Dipped Galvanizing, Epoxy & FBE Coating, Electro Polish, Sand Blasting, Threading, Soldering |
| Production Grades: | Stainless Steel, Alloy Steel, Duplex, Nickel Alloys, Low temperature Steel, Carbon Steel, |
Manufacturing Standards
| | |
| --- | --- |
| ASME: | ANSI B16.9, ANSI B16.28, MSS-SP-43 |
| DIN: | DIN2605, DIN2615, DIN2616, DIN2617, DIN28011 |
| EN: | EN10253-1, EN10253-2 |
| | |
| --- | --- |
| ASTM A403 – ASME SA403 | Standard Specification for Wrought Austenitic Stainless Steel Piping Fittings |
| ASME B16.9 | Factory-Made Wrought Fittings Buttwelding |
| ASME B16.25 | Buttwelding Ends |
| ASME B16.28 | Wrought Steel Short Radius Elbows and Buttwelding Returns |
| MSS SP-43 | Wrought and Fabricated Butt-Welding Fittings for Low Pressure, Corrosion Resistant Applications |
Pipe Elbow Material Grades
| | |
| --- | --- |
| Stainless Steel Elbow | ASTM A403 WP Gr. 304, 304H, 309, 310, 316, 316L, 317L, 321, 347, 904L |
| Carbon Steel Elbow | ASTM A 234 WPB , WPBW, WPHY 42, WPHY 46, WPHY 52, WPH 60, WPHY 65 & WPHY 70. |
| Low Temperature Carbon Steel Elbow | ASTM A420 WPL3, A420 WPL6 |
| Alloy Steel Elbow | ASTM / ASME A/SA 234 Gr. WP 1, WP 5, WP 9, WP 11, WP 12, WP 22, WP 91 |
| | |
Marking & Packing
Products are packaged to ensure that there is no damage during transit. In case of exports, standard export packaging is done in wooden cases. All elbow fittings are marked with Grade, Lot No, Size, Degree and our trade mark. On special requests we can also, make custom marking on our products.
Quality Assurance
At Bangdong, all fittings and flanges are subject to strict inspection at each stage of the production process, from starting material purchasing to product dispatch. They are visually examined for conformity to ASTM, ASME, MSS, DIN, EN, and JIS codes and standards. Upon request, official certified Inspection Agencies can be called in to witness the material reports, dimensions and quality conformity of products.
Test Certificates:
Manufacturer Test Certificate as per EN 10204 / 3.1B, Raw Materials Certificate, 100% Radiography Test Report, Third Party Inspection Report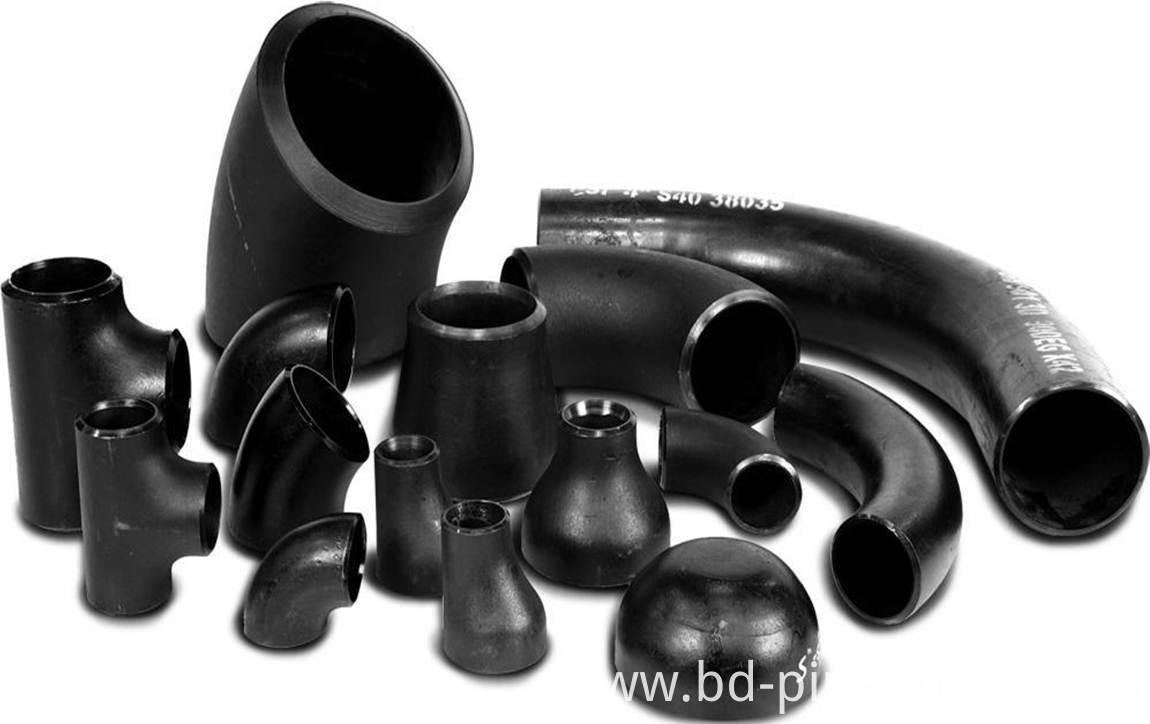 Looking for ideal Welded Casted
Forged Pipe Fittings
Elbow Manufacturer & supplier ? We have a wide selection at great prices to help you get creative. All the Alloy Steel 90 Degree Pipe Elbow are quality guaranteed. We are China Origin Factory of 45deg Alloy Steel Elbows. If you have any question, please feel free to contact us.
Product Categories : Butt Weld Pipe Fitting > Pipe Elbow/Bend