A335 Seamless Alloy Steel Pipe
Bangdong Supply A335 Seamless Pipe,A335 P91 Alloy Seamless Steel Pipe,pipe include : 26 Inch Forged F91 Pipe Forged F91 Steel Pipe Dn650, 26 Inch Forged Steel Pipe, 26 Inch Forged Alloy Steel Pipe , Alloy Steel Forged Pipe Dn650 , Forged Alloy Steel Pipes, A182 F91 Forged Pipe,, Dn650 Forged Alloy Steel Pipe A335 P5 SMLS Alloy Steel Pipe.Carbon steel Pipes mainly used in Pressurized Steam Line, Hot Oil Lines, In Boilers, Petroleum Lines, Air Lines, Gas Lines & in machine parts which require moderate wear resistance Suitable for heat treated parts where high tensile and impact is required along with high endurance bending strength. Aircraft and heavy vehicle crank shafts, Connecting rods, Gear shafts, Chain parts, Clutches, Propeller shafts, Cam, etc.
Material Grades available in Carbon Steel Pipes -

ASTM A53: ASTM A53 Grade A, ASTM A53 Grade B
ASTM/ ASME SA106: ASTM/ASME SA106 Grade A, ASTM/ASME SA106 Grade B, ASTM/ASME SA106 Grade C
ASTM A210: ASTM/ASME SA210 Grade A-1, ASTM/ASME SA210 Grade C
ASTM A333: A333 Grade 1, A333 Grade 3, A333 Grade 4, A333 Grade 6, A333 Grade 7, A333 Grade 8, A333 Grade 9, A333 Grade 10, A333 Grade 11
ASTM A334: ASTM A334 Grade 1, ASTM A334 Grade 3, ASTM A334 Grade 6, ASTM A334 Grade 8
Alloy Steel Pipes:

We are specialized in offering precision engineered alloy steels, which are used in various engineering applications and can be availed in various grades like ASTM A-335, A-387 GR. P1, P5, P9, P11, P12, P22, P91 etc. A-515/516 GR. 60/70, & IS 2062, IS 2002 etc.

Material Grades available in Alloy Steel Pipes –

ASTM A210: ASTM A210 Gr 1, ASME SA210 Gr 1, ASTM A210 Gr C, ASME SA210 GrC
ASTM A335 Alloy Steel Pipes: ASTM A335 P1, ASTM A335 P2, ASTM A335 P5, ASTM A335 P5b, ASTM A335 P5c, ASTM A335 P9, ASTM A335 P11, ASTM A335 P15, ASTM A335 P21, ASTM A335 P22, ASTM A335 P23, ASTM A335 P24, ASTM A335 P36, ASTM A335 P91, ASTM A335 P92, ASTM A335 P122
ASTM A369 Alloy Steel Pipes: ASTM A369 FPA, ASTM A369 FPB, ASTM A369 FP1, ASTM A369 FP2, ASTM A369 FP5, ASTM A369 FP9, ASTM A369 FP11, ASTM A369 FP12, ASTM A369 FP21, ASTM A369 FP22, ASTM A369 FP91, ASTM A369 FP92
ASTM A387 Alloy Steel Pipe: A-387 GR. P1, P5, P9, P11, P12, P22, P91 etc.

MECHANICAL PROPERTIES – TENSILE REQUIREMENTS

Seamless and ERW Grade A Grade B
Tensile Strength, min, psi 48,000 60,000
Yield Strength 30,000 35,000
CHEMICAL REQUIREMENTS FOR A53

Seamless and ERW C max % Mn max % P max % S max %
Grade A 0.25 0.95 0.05 0.045
Grade B 0.30 1.20 0.05 0.045
Testing Requirements for seamless and welded API 53 steel pipe
Hydrostatic Testing test pressures for plain and threaded and coupled pipe are specified. Hydrostatic pressure shall be maintained for not less than 5 seconds for all sizes of seamless and ERW pipe.
Mechanical Tests:
Tensile Test: Two transverse tests required on the ERW for NPS 8 and larger, one across the weld and one opposite the weld.
Flattening Test: On ERW for NPS 2 and larger, STD and XS wall (not required for XXS pipe)
Bending Test (cold): For NPS 2 and under, XS wall and under; for NPS 1-1/4 and under, XXS wall
Degree of Bend Diameter of Mandrel
For normal A53 users 90 12 x nom. diameter of pipe
For Close Coiling 180 8 x nom. diameter of pipe
Number of Tests: Seamless and Electric Resistance Weld (ERW) – bending, flattening, tensile on one length of pipe from each lot of 500 lengths, or less, of each pipe size.
Permissible Variations for A53 steel pipe
Wall thickness: The minimum wall thickness at any point shall not be more than 12.5% under the nominal wall thickness specified.
Weights per foot are plus or minus 10%
Outside diameter: Outside diameter at any point shall not vary from standard specified more than:
NPS Over Under
1-1/2 and smaller +1/64" -1/64"
2 and larger +1% -1%
Lengths of A53 steel pipe
Products A53 seamless and welded steel pipe is produced in random lengths 16` – 22` or 32` – 44`, in multiple lengths, and in specific cut lengths.
Marking Requirements
Rolled, die-stamped, ink-printed, or stenciled (manufacturer`s option).
Manufacturer`s name, brand, or trademark
Size and wall
Steel grade
ASTM A53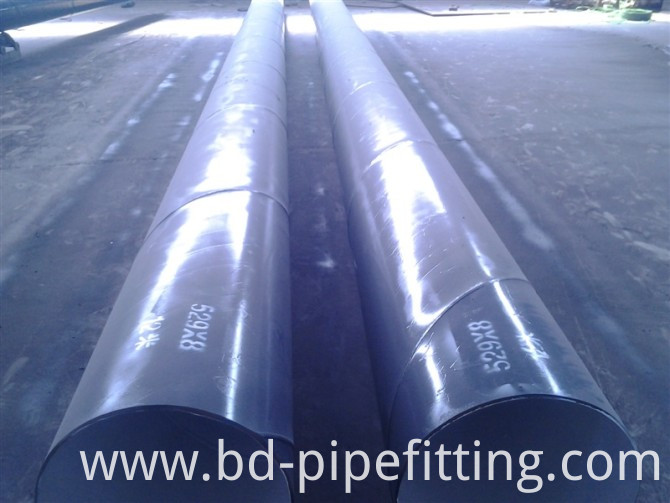 Looking for ideal A335 Seamless Pipe Manufacturer & supplier ? We have a wide selection at great prices to help you get creative. All the A335 P91 Alloy Seamless Steel Pipe are quality guaranteed. We are China Origin Factory of A335 P5 Smls Alloy Steel Pipe. If you have any question, please feel free to contact us.
Product Categories : Steel Pipe > Alloy Steel Pipe